December 8, 2010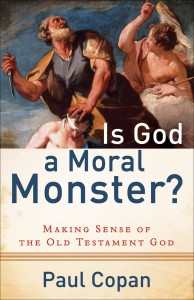 My dear friend and colleague, Paul Copan, just released his latest book, Is God a Moral Monster: Making Sense of the Old Testament God (Baker, 2010).
Paul is the President of the Evangelical Philosophical Society and a first-rate philosopher and theologian.
Frankly, he is the nation's leading apologist regarding problems with the biblical text, and Is God a Moral Monster? is vintage Copan. The book takes on New Atheist biblical critics and powerfully addresses virtually every criticism they have raised, including:
God is a narcissist.
God punishes people too harshly.
God is guilty of ethnic cleansing.
God oppresses women.
God endorses slavery.
Christianity causes violence.
I know of no other book like this one, and it should be required reading on college and seminary courses on biblical introduction.
To learn more about the book, read Paul's interview with Joe Gorra at the EPS website.