March 29, 2012
Evangelical-Pentecostal scholars continue to produce fruitful work for the benefit of Christ's church. Such advances will help contribute both toward a Reformation among Charismatics and for a renewed pneumatology among evangelicals and their ecclesiology.
One notable example of this work is Gary Tyra's worthwhile book, The Holy Spirit in Mission: Prophetic Speech and Action in Christian Witness (InterVarsity Press, 2011). J.P. sets the context for understanding the significance of this book when he writes:
Outside of the West, the church is exploding in rapid growth and influence, and leading experts tell us that much of it is due to supernatural manifestations of the Holy Spirit. What has been needed is a biblically and theologically savvy defense of this role of the Spirit in the church's mission. Tyra's excellent book more than adequately fills that need. His treatment of the importance of the prophetic is alone worth the price of the book.
Recently, Joe Gorra interviewed Gary Tyra about the book and its implications for our theology and practices. Below is Part One of that interview. Currently, Gary is Associate Professor of Biblical and Practical Theology at Southern California's Vanguard University. Along with his scholarship and writing, Gary has extensive pastoral leadership experience, and great love to see people grow into all that God has called them to be.
PART ONE
You dedicate your book to the renowned Russell P. Spittler, who you rightly describe as "a consummate evangelical-Pentecostal scholar and statesman whose example, counsel and friendship have meant a great deal to me over the years." As a self-identified evangelical-Pentecostal scholar, can you share a little about your own journey, especially with regard to your own work, and how Russell has influenced you?
I became a Christ follower as a young adult (19-years-old) while a pre-med student in college. Since my conversion to Christ took place within a Pentecostal/charismatic ecclesial setting, my first worship, nurture, community and mission experiences occurred in an environment where the folks simply took for granted the need to be empowered by the Holy Spirit for life and ministry over and over again throughout one's spiritual journey.
Within a year of my conversion I found myself involved in full-time Christian ministry. Once I responded to the call to transition from medicine to ministry, I began the pursuit of a formal biblical, theological ministry education. Eventually I was exposed to the broader evangelical movement, earning my graduate and post-graduate degrees at Fuller Theological Seminary in Pasadena, California.
I emerged from my time at Fuller as an evangelical who nevertheless continues to embrace the best aspects of his Pentecostal/charismatic heritage due in no small part to the influence of fellow Fuller Pentecostals such as Russ Spittler and Mel Robeck. I consider both of these men to be consummate scholars who represent the Pentecostal-charismatic tradition well within the larger evangelical and ecumenical settings. As well, both have spent time with me over the years helping me better understand and negotiate the challenges involved in functioning as a pastor-scholar within an ecclesial tradition that, historically, hasn't always emphasized the need for advanced theological degrees, much less a critical scholarship.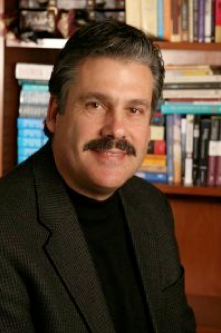 In the Introduction, you speak to "the need for a new pneumatology" (14ff). Specifically, what is that need? How is (for lack of a better descriptor) the "old pneumatology" incomplete?
As I've suggested, as an evangelical I'm much committed to the authority of Scripture and the need for all spiritual experiences to be evaluated on the basis of the sacred text. On the other hand, as a missional Pentecostal I am acutely aware of the possibility of, and need for, fresh, ongoing experiences of Spirit-empowerment that enable a missional faithfulness.
Over the years I've become more and more convinced that even though both evangelicalism and Pentecostalism have in common a commitment to mission and devotion to the Bible, what has been missing is a pneumatology that, because its focus is on mission rather than boundary-marking and boundary-reinforcing pneumatological doctrines, has the power to unite rather than divide evangelicals of all stripes. It is this kind of pneumatology I have attempted to put forward in this book.
In various places you say that you want your book to possibly "serve as a practical biblical theology of the Spirit that can aid in the formation of biblically informed, Spirit-empowered, missionally faithful Christians and churches" (11-12). This is a worthwhile statement to hang our hats for a moment. First, why the need for this book to be a "practical biblical theology of the Spirit," in contrast to a systematic theology treatment of pneumatology, for example? How does the approach relate to the need you are trying to fill with this book?
I have great respect for the discipline of systematic theology. However, given the fact that my audience for this book is comprised of both Pentecostal-charismatics and non-Pentecostal-charismatics, and the reality that, historically, Pentecostal-charismatics have often been criticized by other evangelicals for basing their pneumatological positions on their personal experience rather than from the clear teaching of Scripture, or only on the book of Acts rather than the entirety of Scripture, I wanted to do my best to offer the evangelical community as a whole a pneumatology that does indeed derive from the what the Bible as a whole says about the Spirit's penchant for using God's people to achieve God's missional purposes in the world.
Furthermore, the pneumatology promoted in the work is practical in nature in that my goal in writing it was to genuinely impact the way all of this plays out in the local church. This is why I was careful to include in the book some illustrative, hopefully inspiring, real-life anecdotes of what the prophetic speech and action I am advocating for looks like and can result in. This is also why I include a chapter that's all about what must be done in order for church leaders, denominational leaders and academics to succeed at encouraging the evangelical rank-and-file to embrace and practice the missional pneumatology proffered in the work.
Your prefatory statement that I cite above is also indicative of how you view the work of theology in the life of the church. Can you say a little more about what's the ecclesiological and formational significance of doing "practical biblical theology," perhaps for the work of pastors and scholars alike?
It's my sense that many theologians share the conviction that all theology should be practical rather than merely speculative or theoretical in nature: i.e., that it should be done with the ministry of the local church in view.
More than that, I'm convinced that a prayerful, disciplined, communal study of God's word can have a formative as well as informative impact upon those who engage in it. In the book I'm currently writing for IVP Academic I make the argument that just as it is through a holistic indwelling of the world (physical and social) that allows human beings to acquire the cognitive framework necessary to assimilate real, trustworthy, even if not perfect, knowledge of the way the world works and how to best navigate their way in and through it, the same is true with regard to the "world" presented to us in the pages of the Bible.
As the members of a Christian community engage in a spiritually disciplined, communal indwelling of the biblical narratives (and through them the grand, overarching story of redemption related in Scripture), slowly but surely the Holy Spirit who originally inspired the biblical text is able to help them acquire a "cognitive framework" the apostle Paul referred to as the "mind of Christ" (1 Cor 2:16; cf. 1 Jn 2:20-27). All that is required then for a real knowledge of God and what he is up to in the world is the grace-enabled acquisition on our part of the cognitive concepts and categories fitting to the divine subject matter—God's self-revelation in and through Jesus Christ. It is through this God-commissioned, Christ-centered, Spirit-enabled, theologically real cognitive framework that we find access to spiritual wisdom—i.e., real, trustworthy, even if not perfect (see 1 Cor 13:12), knowledge of the way the spiritual world works and how to best navigate our way in and through it.
Furthermore, such a view of the formational power inherent in a prayerful, disciplined, communal study of God's word has implications not only for the church's engagement in spiritual and ministry formation, but its approach to mission as well.
We evangelicals have a reputation for being people of the Book. I want to humbly suggest that we should also strive to be people of the Spirit of the Book! That is, we should possess an empowering confidence in the Holy Spirit's faithfulness to work in a convicting, convincing, missionally impactful manner as we invite pre- and post-Christians to "taste and see" for themselves just how inspired and reliable God's word is by spending some time prayerfully studying (indwelling) sacred Scripture along with us (see Ps 34:8; Jn 1:37-39, 44-46; 4:42).
In all likelihood, it was not merely a set of rational arguments for the inspiration and reliability of Scripture that made most of us evangelical in our approach to the Christian faith; it was the experience of having our worlds rocked by the Trinitarian God who has revealed himself in a powerful way through both his living and written Word.
So, yes, I guess you can say that I'm pretty high on the ecclesiological and scholarly value of a theology that is "biblical" in its orientation and "practical" in its purpose.
The concept of "prophetic speech and activity" figures rather prominently in this book. What is that, and how is it related to your concept of "witness"?
To speak or act prophetically, in the sense in which I refer to these missional activities, is to say or do something at the behest of the Spirit of mission so as to enable an achievement of God's purposes in the world. Put even more simply, prophetic speech and action occur whenever someone, due to a special prompting of the Holy Spirit, says or does something on God's behalf.
In a nutshell, my argument is that the Spirit of mission has a penchant for using the people of God to achieve the purposes of God in the world. In addition, his missional method of choice seems to be to inspire rank-and-file believers to speak and act prophetically (on God's behalf) into the lives of hurting people in evangelizing, edifying and equipping ways. Like Ananias of Damascus, Spirit-filled followers of Christ are able to hear God's voice, receive ministry assignments from him, speak and act prophetically into the lives of others, making a difference in the world and building up Christ's church in the process (Acts 9:10-20).
This kind of Spirit-inspired missional faithfulness is apparent on nearly every page of the book of Acts, and in the phenomenal growth currently occurring among Pentecostal-charismatics worldwide. I am convinced that once we evangelicals in the West recognize the crucial role which prophetic speech and action plays in the achievement of the missional purposes of God, and once we open ourselves to this empowering work of the Spirit in our lives, we can, like Ananias, be used of God in wonderful ways, our post-Christian ministry context notwithstanding!
READ PART TWO of this interview. You can learn more about Gary Tyra's ministry by visiting his website, www.garytyra.com. He can also be followed on Facebook and on Twitter.