 Purchase Media
In four, clearly communicated talks, J.P. resources listeners with answers for some of the toughest challenge that skeptics raise against Christianity. This popular series is designed to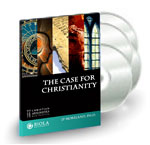 help prepare Christians to answer those questions effectively and with confidence. J.P. has spent most of his life trying to help people understand challenges to Christian claims and to learn how to offer a well-reasoned - not mechanical - response.
Price: $25.00
Purchase: From Biola's Christian Apologetics Program (click here)
Disc Topics Include:
Atheism and the Meaning of Life
Why Should I Believe in God
Searching for the Historical Jesus
Why Should I Believe in Life After Death?
Related content: If this series interests you, you might also want to consider the following:
Benefits:
It models clear thinking and accessible information for the non-specialist.
It is full of winsome  illustrations.
It provides answers and perspective from time-tested experience and thinking.